Oh me, Oh my, Oh no, Oh yes!
What "O" should I pick,
What "O" would be best?
I could write an Ode,
But that would be long...
And taxing to you,
And soon you'd be gone.
So I will do what I do best.
Pick a bit of this and a bit of that,
From what I'll call Jeff's nest.
So, without further ado, and with my most favored Odalisque by my side, I began, with a certain Obduracy, the Operose task of Obambulating about, selecting Omnigenous Objects from my Odditorium for your Oblectation.
Thanks to Jenny's Alphabe-Thursday, where you can find Oh sOOO many wonderful, alphabetically inspired posts.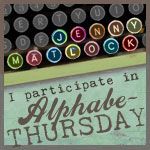 O is for Ollas from Mata Ortiz
O is for Orange flowers
I had to leave the Odditorium for these
O is for opals from Australia
Known as "Boulder Opals"
O is for Ornithologist as depicted in this
19th century engraving
O is for Osprey as drawn for this Audubon
1st royal Octavo edition
O is for Owls in this Audubon
1st Octavo edition
...and these carved Owls from
Mexico, India, and Bali
O is for Orb as seen in
this crystal ball
...and the mOOn above,
it makes me feel small
"Oh moon...won't you send your light,
And tell my mother for me, cross the sea
Her boy is alright?"
- lyrics from the song, Oh, Moon of the Summer Night,
by Allan J. Flynn, 1918