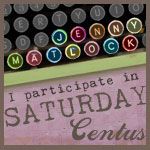 I am participating in the ongoing meme, Saturday Centus, brought to you by Jenny at Jennymatlock.blogspot.com. It is a creative writing meme in which we are given a writing prompt. Using this prompt we then explore our own creative abilities in 100 words or less. I encourage you to try this and see if you might have a little Faulkner in you...The first paragraph below is the prompt, the second paragraph is mine...Peace, and may your pens flow...
I look back over my shoulder, squinting into the late afternoon sun, gawking with stunned alarm at the broad rolling muddy waters of the Mississippi.
What am I afraid of? That this dark and murky river holds secrets of my past...secrets that 'til now have only been revealed in the playground of my dreams.