"X"...to me an unusual letter and oft used symbol. I had, at one point, decided to write about "X" as it applies to symbolism. As I explore this topic it became apparent that it was too dry a material for my taste. Then it came to me, from somewhere out of the vaults of, perhaps, a college Entomology class from years past...a certain butterfly known as the Xerces Blue. It is well known in Entomological and Lepidopteran circles as the only known butterfly species to have become extinct due to human activity.
The Xerces Blue gets its name from a pair of 5th century Persian kings, Xerxes I and II. It once inhabited an area of coastal dunes near San Francisco, California. Two theories are proffered as to the cause of extinction...development and subsequent habitat loss and/or the loss of a symbiotically important ant species via the invasion of a non-endemic ant species. The Xerces Blue was last observed in the wild in the early 1940s. Some years later, in 1971, its name gave rise to the Xerces Society for Invertebrate Conservation. This organization is dedicated to the study and conservation of invertebrate wildlife.
In honor of the Xerces Blue and the work done by the Xerces Society, I offer below some recent insect photographs taken in and around my yard. I am especially fond of the small, iridescent colored Long-Legged Fly. They are the perfect flying insect subjects. they do not fly off when approached, and seem to actually pose for their pictures. My macro lens allows me to really bring to life these colorful, 1/4 inch long insects that might otherwise go unnoticed.
Enjoy...Hug a Bug!
This post is offered as part of an ongoing meme, started by Jenny Matlock, called Alphabe-Thursday. Please visit and check out all the wonderful posts at Alphabe-Thursday.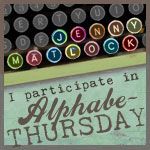 Prize Giveaway!!
I will celebrate my 1st year blog anniversary next month with a prize giveaway. To see the prizes, you will need to check for my new post, Anniversary Prize Giveaway. You may enter 3 times. First entry will be to check back through my posts and find a favorite photo. Second entry will be to state your favorite post of mine. Third entry will be to write a poem or Haiku. Enter, via your comments either with this post, Saturday Centus or Anniversary Prize Giveaway. Comment entries will be accepted through this Saturday, and I will announce the winner this Sunday, 4th of July. Prizes ...set of 3 carnival wagon piggy banks, turkey salt and pepper set, colorful fabric remnants, and a made to your color specifications hummingbird feeder. I hope these prizes are appealing to you as I wanted to find a nice way to express how much fun I have had blogging with you folks.